The 2022 Subaru Love Promise Customer and Community Commitment Award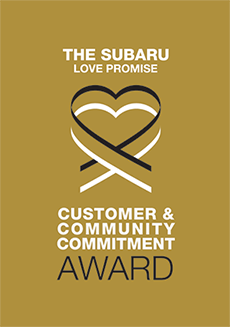 We've been nationally recognized for our dedication to our customers, our community, and the Subaru Love Promise.
We're honored to receive the 2022 Subaru Love Promise Customer and Community Commitment Award. This award nationally recognizes elite Subaru retailers who provide an exceptional customer experience at every interaction with Subaru. These retailers have also demonstrated an outstanding commitment to supporting passions and causes in their local communities in important areas such as the environment, community, health, education, and pets.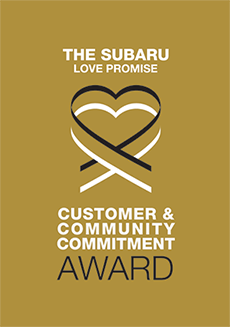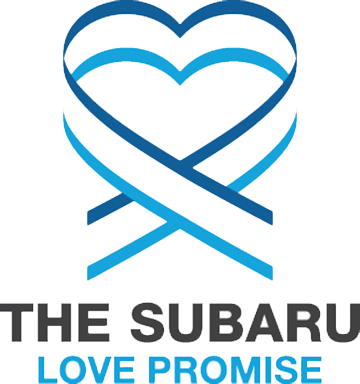 What is the Subaru Love Promise?
Subaru and our retailers believe in making the world a better place and the Subaru Love Promise is our vision of respecting all people. This is our commitment to show love and respect to our customers and to work to make a positive impact in the world.
How is Subaru of Gwinnett dedicated locally to the Love Promise?
At Subaru of Gwinnett, our Love Promise to Duluth and the Atlanta area can be in seen our partnerships with local nonprofits and charities. We're grateful for the opportunity, not only to be a part of this community, but to serve it as well.
Hopkins Elementary School
LLS-Leukemia Lymphoma Society
Love Promise Stories from Subaru of Gwinnett
Subaru and Subaru of Gwinnett believe in making a positive impact on the communities in which we live and work. We uphold that belief through our Love Promise Community Commitment. Every month, we select inspiring stories from customers and partners from around our area who strive to support our collective commitment and feature them here
Subaru Share the Love Gives HOPE! - Michelle A
Rainbow Village has been the hometown charity for the annual Subaru Share the Love Event for many years. The most obvious demonstration of how these funds help families who have experienced homelessness is the provision of safe, stable housing and a Success Coach that guides them on their journey toward self-sustainability. A less obvious benefit this funding provides is the opportunity for HOPE to be restored and for these families to embrace the possibilities for a bright future. HOPE for Mia is eliminating credit card debt, obtaining a credit score of 700 and adding $900 into her savings account in one month! She is also enrolled in a GED Prep Program! HOPE for Paige is the gift of a car from a Rainbow Village partner so that she has transportation to work. HOPE for Kenisha is employment at a day care facility where her three children under the age of four can all attend at a reduced rate. Thank you, Subaru, for giving HOPE!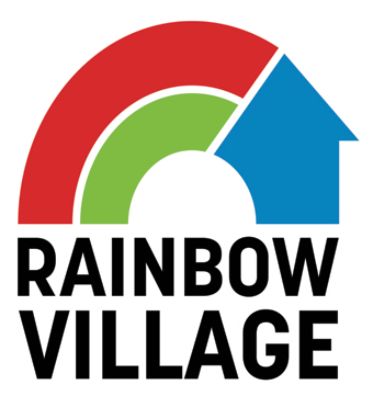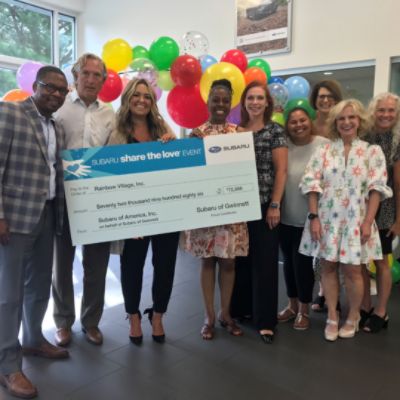 ---
Vehicle Repairs Keep Shelter Vans Running! - Tanya W
Subaru of Gwinnett has been a HUGE help to our local non-profit. Planned PEThood is a spay/neuter facility that offers the medical care for six animal control shelters here in Georgia. Five of those shelters are in rural locations, up to an hour outside of the city, and we help to provide transportation assistance for up to 50 animals per week through our Go Fix Georgia program. These lucky dogs and cats come to us for their sterilization surgeries, vaccines, extra medical care, emergencies and more. In 2022, our program helped 2,012 shelter animals get their vetting so they could be adopted out into their furrever homes. We helped an additional 1,100 public animals through our Outreach division with free vaccines and surgery vouchers. That's over 3,100 animals that counted on us and our vehicles just last year alone. Subaru of Gwinnett knows we love our underdogs, just as much as they do! They have helped send volunteers to outreach events and have provided some much needed vehicle repairs over the years. This past Christmas was no exception! The side loading doors on one of our large transport vans decided it would no longer open. While this didn't mean we stopped running the transport, it did mean loading a full bus through the back doors only. This meant up to a half hour of extra loading time to get all the dogs and cats safely on or off the bus. Add to that they extra stress on the animals, it wasn't ideal. We took our van over to Subaru of Gwinnett and asked if they were able to help us. They were instantly able to tell us what was wrong and provide a quote on parts to get it fixed up. However, we were so gratefully surprised when picking it up just before Christmas, they informed us the repairs were complimentary! We know it's within their giving nature, but it is so very much appreciated. While this repair might have only been a couple hundred dollars, we equate that to animal care. Those funds never had to be pulled away from a deserving shelter animal or care that we are able to provide. Not only that, they held a supply donation drive during the month of December for us, and we were able to drive away loaded up with paper towels, gloves, garbage bags and more that were lovingly gathered for our non-profit. Planned PEThood would love to share what a wonderful group of animal lovers there are at this location. They consistently step up to help in any way they can to ensure we can keep doing what we do. Thank you doesn't seem like enough to say!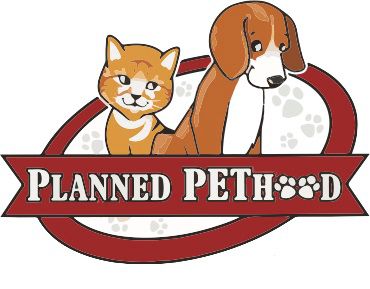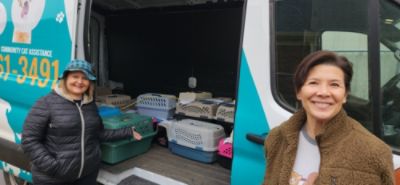 ---
Subaru Loves the Underdogs - Tanya W
Subaru of Gwinnett has been a wonderful partner and animal ally for our non-profit animal rescue! They have helped us in many ways, but recently showed up at a very deserving event with manpower on their day off. Planned PEThood of GA hosts outreach vaccine clinics for impoverished and underserved communities in the rural areas of Georgia. We take care of vaccines for dogs and cats, microchips, flea treatments and even food for these pet owners who are unable to financial[ly keep up with the care of their pets. ALL services are provided free of charge, including the spay/neuter vouchers we provided for after the event. The average event we host sees 200 pets, with roughly 67% of them unaltered and never having been to a vet before. This past weekend, we drove out to Newton County, GA and provided one of our pop-up outreach events. These are fast paced, and all hands on deck situations. Subaru of Gwinnett was right there with us, showing up with a couple of volunteers on their day off, to help. They JUMPED right in! Pulling up vaccines, distributing free food/flea treatments, and making sure each of these pets were given personal care they deserved. 224 animals were cared for in just four hours time. Planned PEThood is very grateful for their assistance and could not have asked for friendlier, more energetic people who meshed completely with our team and mission. There was no judgement or hesitation with dogs and cats of all ages, sizes and condition. We would be thrilled for them to come back out to any future events, continuing to help the UNDERDOGS of our communities!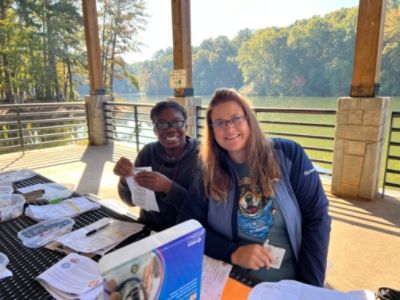 ---
Hopkins Fall Family Carnival - Maria M
Hopkins Elementary had a wonderful Fall Family Carnival and garage sale this past Saturday, September 24, 2022 from 10 AM to 2 PM. The carnival was to benefit our school care team that helps families in need and to allow our families and community to come together for a fun Saturday afternoon. We had a wonderful turn out and everybody had a great time dancing, jumping in the bouncy houses, eating and shopping together. We were able to spend some wonderful time together as a school community and raise funds for a very special 5th grade student who is battling brain cancer. We would like to thank Subaru of Gwinnett for partnering with Hopkins and donating all the drinks as well as allowing us to borrow tables and coolers. It was wonderful to have their support.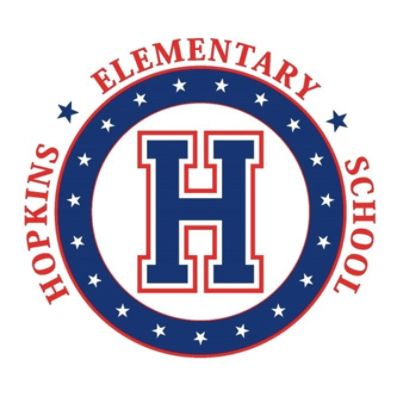 ---
Caring in Action: HomeFirst Gwinnett Community Festival 2022 - Brandee T
We can't thank Subaru of Gwinnett enough for stepping up as a sponsor for the inaugural HomeFirst Gwinnett Community Festival. Not only that, but team members also volunteered! United Way of Greater Atlanta has compiled a Child Well-Being Index that illustrates the areas of high need across its 13-county region, which includes Gwinnett. The HomeFirst Gwinnett office in Norcross sits squarely in a red zone - meaning that nearly 50% of the children in this community lacks access to basic necessities and healthcare that would allow them to thrive. Recognizing this need, HomeFirst Gwinnett set out to host a community festival to connect area families with available resources. The goal was to provide these resources in a fun, festival setting to help reduce the stigma of accessing these needed essentials like clothing, housing assistance, health screenings and SNAP benefits. During the early phases of planning this festival, as a nonprofit that serves individuals experiencing housing instability, HomeFirst Gwinnett recognized the importance of this festival being completely free for attendees. By making all aspects of the festival free for attendees, we significantly reduced the barriers to access to services. We wouldn't have been able to host this event without the help of Subaru of Gwinnett. Through the festival, we provided food to 200 people, gave away 100 pairs of brand-new shoes and dozens of books among other things. We also were able to connect a community in need with direct resources that will improve their well-being long-term.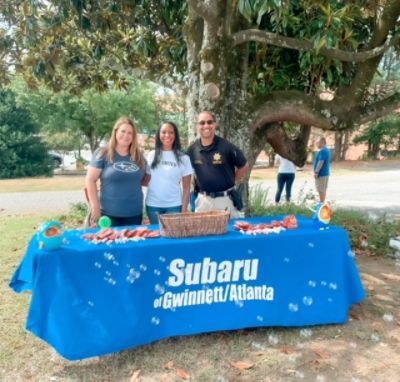 ---
Subaru Gwinnett Loves to Care with Suburban Hematology-Oncology Associates Affiliated with Northside - Udana D
I had the privilege of joining Subaru of Gwinnett (Julie Adams & Taylor Spicuzza) as they spread some Subaru love to patients at Suburban Hematology-Oncology Associates affiliated with Northside Hospital Cancer Institute through there Subaru Loves to Care Program. The nursing staff was so happy to receive the blankets, arts and craft kits along with messages of hope for their patients. Subaru of Gwinnett has once again shown their love and support of their community. Thank you😊 UDANA L. DOZIER | Campaign Development Manager The Leukemia & Lymphoma Society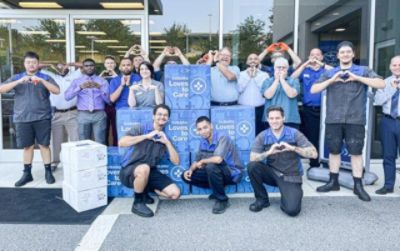 ---
#Teamwork - Julie A
Story told by Tiffany Ho- Sales Associate at Subaru of Gwinnett: I had a customer who come in and asked for me specifically. When I met her I wondered how she came to know my name. This is the story of Ms. Orr. We had a wonderful time talking while test-driving an Outback and I ordered an Outback Touring for her that day. When her vehicle came in, we chatted for a bit during delivery. Since Service was closed, I was not able to introduce her the service department. She then asked me if she was able to choose her service advisor, I told her that she can request anyone and asked if she had come in for service before; this confused me since she had never owned a Subaru before. She had visited Subaru of Gwinnett service department previously with a 2019 pre-owned vehicle she was considering purchasing for a pre-purchase inspection. During the inspection, there was some component that was malfunctioning. She stated that instead of just giving her the results and sending her on her way, Jessica our Service Advisor worked to see if the parts were still under warranty and worked with our service manager to make sure they had the parts and could service for her. Jessica made sure that if she were to have bought that vehicle, it would be covered, and they would be able to fix for her. This made a big impact that Ms. Orr asked if Jessica had any sales associates in mind that could help her buy a car if she ended up not purchasing this pre-owned vehicle. That is how she got my name. She expressed to me at the end of her delivery process that even though our dealership is not the closest to her, the amazing experience she had with the management, service, and the sales department made her feel like this is the right place for her. She informed me she sent a wonderful comment through Subaru America stating how wonderful our location was and how it made her feel like she was valued and would always be taken care of. #Teamwork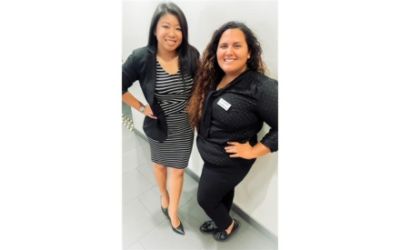 ---
Transporting shelter pets - the true underdogs! - Tanya W
Our local Subaru store has gone above and beyond to help our rescue and missions. Let me start by explaining our Go Fix Georgia program! There are many underfunded and underserved animal control shelters just outside of the metro Atlanta area with little or no medical options. Often the pets with immediate medical needs are euthanized, and healthy adoptable ones are sent out with new owners unaltered, leading back into the overpopulation problem. Our program provides transport each week for up to four of these rural shelters to offer spay/neuter services and immediate medical care for the animals in their care. We bring them back to to our clinic in Duluth, GA and then return them to their respective shelters, up to an hour and half away! That said, our vehicles take a beating. One donated van we had was graciously given to us by a local dealer, with the knowledge the side door didn't work. However, knowing we needed the extra vehicle and transport capacity, we jumped on this offer! That meant loading animals, including large dogs and cats in carriers through the trunk door. Let's just say it was a labor of love. We reached out to Julie at Subaru of Gwinnett, and she had us bring the van in. Other shops had quoted us several thousand dollars to either fix or replace the door. We kind of resigned ourselves into always needing to just "deal with it" as those funds would be better used towards saving animals. But they surprised us by offering to fix it for a dramatically lower cost, with them even taking a partial loss! The van side door was professionally fixed and now works beautifully! We are able to get animals safely and easily in and out of the vehicle both before and after surgery, and transport them back to their county with a chance at their happily ever after! The cost savings was incredible, and every penny saved is put towards yet another underdog sitting somewhere in rural GA with little hope for care.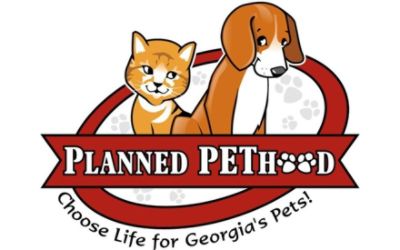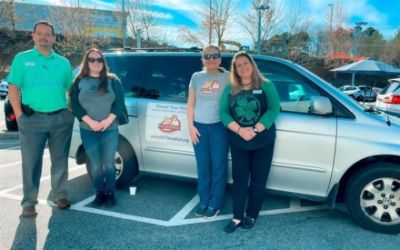 ---
SoG Building Bridges with Frankie & Andys Place - Stephen W
Frankie & Andy's Place is a senior dog sanctuary located in Winder, GA. It's much more and provides support in so many ways other than just providing a loving safe soft place to land to the so many passed over and neglected members of the dog community. This past Friday was FAAP's 6th annual golf tournament which is FAAP's cornerstone fund raiser. We were delighted to have SoG join us as a sponsor. Their sponsorship exceeded our hopes and expectations, especially for a 1st time sponsor with us. They also had a team play in the tournament, provided swag for our volunteers and golfer gift bags. They even helped bring the excitement of the new and beautiful Subarus by providing some display cars which brought a level of access and excitement to an event that is hard to put into words. This years' event had some firsts which was even more impressive than just the wonderful work already being done by FAAP. This year the event hosted two very different schools, Path United and Mill Springs Academy. Different from the perspective the learning abilities of both schools are of a very special nature. SoG by being a sponsor had a front row seat to all that attended; golfers, volunteers, guests, parents, students and showed so many people that SoG is truly a valued and hugely committed to the community they serve. These schools came together to work as a team in doing something for a non-profit, Frankie and Andy's Place. With great appreciation and hopes this is the first of many wonderful causes we find ourselves working together with Subaru of Gwinnett. Stephen Walters Event Coordinator Frankie and Andy's Place www.frankieandandysplace.org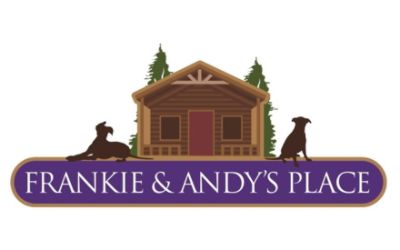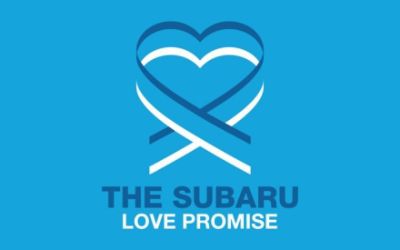 ---
Rainbow Village Birthday Party Project - Brittany L
Subaru of Gwinnett sponsored and provided volunteers to host a birthday bash for the Rainbow Village Academy children. They celebrated the children that had a birthday during the months of January-March and it was a hit! The children, staff and volunteers, enjoyed pizza, drinks, and cupcakes!! They also played Games and the children of RV Academy were all smiles and laughs during this fun event. Thank you Subaru for supporting the families & children of Rainbow Village.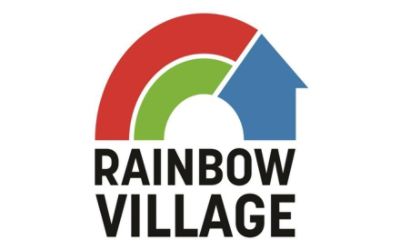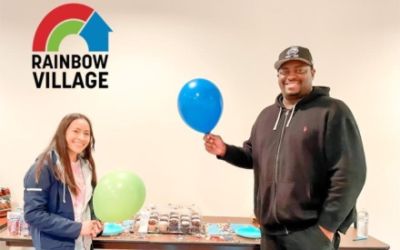 ---