The 2021 Subaru Love Promise Customer Commitment Award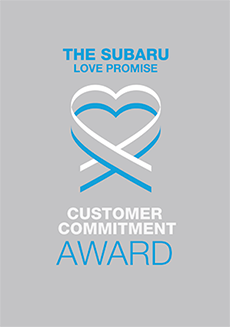 We've been nationally recognized for our dedication to our customers and the Subaru Love Promise.
We're honored to receive the 2021 Subaru Love Promise Customer Commitment Award. This award nationally recognizes Subaru retailers who demonstrate excellence in all areas of customer-focused performance. It highlights exceptional customer service that builds lifelong relationships with Subaru owners.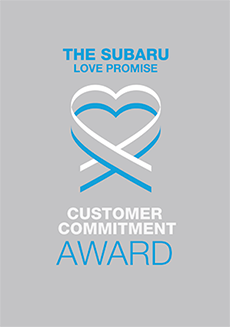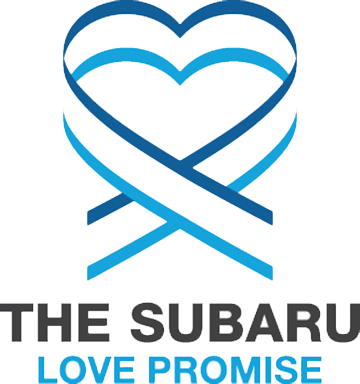 What is the Subaru Love Promise?
Subaru and our retailers believe in making the world a better place and the Subaru Love Promise is our vision of respecting all people. This is our commitment to show love and respect to our customers and to work to make a positive impact in the world.
How is Subaru of Gwinnett dedicated locally to the Love Promise?
At Subaru of Gwinnett, our Love Promise to Duluth and the Atlanta area can be in seen our partnerships with local nonprofits and charities. We're grateful for the opportunity, not only to be a part of this community, but to serve it as well.
Love Promise Stories from Subaru of Gwinnett
Subaru and Subaru of Gwinnett believe in making a positive impact on the communities in which we live and work. We uphold that belief through our Love Promise Community Commitment. Every month, we select inspiring stories from customers and partners from around our area who strive to support our collective commitment and feature them here
Make a Dog's Day - Andy A
Subaru is proud to establish the first-ever National Make A Dog's Day October 22nd. As part of Subaru Loves Pets month, we're inviting all dog lovers to do something extra special for their furry best friends. Plus, Subaru will be focusing our efforts on helping the hardest-to-adopt shelter Dogs –those with special needs-find homes. Get ready to fall in love withThe Underdogs. #MakeADogsDay Meet Gabi! Gabi has been at the Humane Society of NWGA (Northwest Georgia) for seven years. If you asked the volunteers to pick their favorite animal at the shelter, Gabi would win hands down. She does not do well with dogs or cats so must be the only animal in an adult only family. She loves people and will bond very quickly to you. Gabi would make someone a great companion. She is waiting patiently for her forever home. If you have room in your heart and your home for this sweet girl then please fill out an adoption application, highlight and right click this link: https://hsnwga.org/adoption/application-for-adoption/?fbclid=IwAR2Ie18p6U3ryKi-niIuIZFTd-waD98xrySl7IJmiRBXE239WP7dpODubiU #MakeADogsDay #SubaruLovesPets #TheUnderdogs
---
Subaru and LLS Support Cancer Patients - Sydney T
On June 28, 2019, The Leukemia & Lymphoma Society - Georgia Chapter and Subaru of Gwinnett had the pleasure of delivering 80 blankets and 10 arts & craft kits to the Cancer Center at Gwinnett Medical as part of the Subaru Loves to Care program. These comforting gifts were accompanied by personalized messages of hope written by the customers and staff of Subaru of Gwinnett. This incredible act of generosity was warmly received by the Cancer Center at Gwinnett Medical staff who were thrilled to distribute these comforting gifts to their patients. LLS is proud to partner with Subaru to spread hope, love and warmth to those fighting cancer, across the country and right here in the Gwinnett, Georgia community. Many thanks to everyone at Subaru of Gwinnett and the Cancer Center at Gwinnett Medical, not only for a memorable day, but for supporting LLS's mission to cure blood cancers and improve the quality of life of patients and their families
---
Subaru Shares Lots of Love with Rainbow Village - Michelle A
Thank you Subaru of Gwinnett for supporting Rainbow Village for the 4th year in a row during the 2018 Subaru Share the Love Event. Rainbow Village received a very generous donation of $48,345. This is the single largest donation we have received from a corporate partner! In the past 2 years, we have received $62,345 to implement a new adult mentoring program called Circles USA. This program pairs community volunteers with our residents to create an intentional friendship revolving around the resident's desire to move from poverty to a place of stability. The funding allowed training of two staff members who now serve as the Circles Coordinator and Circles Coach. Additionally, Subaru funding was allocated to provide internet access in each resident's apartment. This provides residents easy access to online education, career advancement, housing opportunities and access to other community resources. In addition to the generous financial support, Subaru has shown an amazing desire to support the families of Rainbow Village in many other ways. • Staff members volunteered at the "End of School Bash" for our After School students • The dealership hosted a drive for supplies needed to stock apartments by promoting a "Stock the Subaru" event at the dealership • Subaru of Gwinnett helped a single mom get a much needed car! Rainbow Village resident Selethia, through a collaborative partnership with AutoGift, was "gifted" an awesome Subaru. Selethia left a domestic violence situation to provide a better life for her two little girls – aged 2- and 5-years-old. The car makes it possible for Selethia to work more hours to gain financial stability and allows her daughters to participate in Girl Scouts and take family trips to the park. Thank you Subaru of Gwinnett…we are so glad you are part of our village! We hope that our gift to you, the "Reaching for the Stars" artwork created by Rainbow Village students, reminds you of our appreciation of all that you have done for us!
---
UNBELIEVABLE CAR BUYING EXPERIENCE - michael e
My name is Michael Evans I currently purchased a 2018 outback limited from Subaru of Gwinett in Duluth GA. I experienced the best car buying experience from that dealership and can't say enough about it. We live 2 1/2 hours away close to Chattanooga TN and dealt with Liam Bennett who sold me the Outback, Diana Vona who did the financing and Jennifer Kessler General Sales Manager. We lost our 2015 Legacy Limited in a house fire 7 weeks ago and everything else we had. 6 weeks prior my wife had open heart surgery. I have a 7-year-old girl, and my wife and I are 45 and have had Legacy unimaginable for several weeks. That being said I started looking for a replacement dreading the process as our rental car was about up. Through emails and searching other dealerships, Liam started responding and the last email read We will make it worth your while to drive down to see us. Liam and Diana are such good people they didn't feel fake and I felt comfortable and they felt trustworthy. Moving on, they delivered my car to the house we are living in and the gentleman said to my wife you need to look in the back. I assumed checking it out since it was my wife's first time seeing it. He opened it and it was full of clothes, books, backpack, sleeping bag and toys for my daughter. We have had lots of support from family and friends through our disaster but these are complete strangers I just meet. My wife cried as we looked over the items and we read the very personal card they wrote along with gift cards and Subaru items. We are blown away by the love and caring from the dealership. Thank You Jennifer Kessler, Diana Vona, and especially Liam Bennett for making me and my family smile. Michael
---
Subaru Delivers Warmth and Hope to Cancer Patients - Audrey S
On Monday, June 18th the staff of Grady's Georgia Cancer Center for Excellence received care packages full of words of hope, arts & craft kits, and blankets from Subaru of Gwinnett. They were thrilled for the opportunity to once again partner with The Leukemia & Lymphoma Society (LLS) to help bring hope and warmth to cancer patients. Eric Fritsch and Taylor Spicuzza of Subaru of Gwinnett (pictured below middle and far right) have a special place in their hearts for the Subaru Loves to Care program, as members of both their families have been affected by cancer. Taylor lost her grandfather in 2008 to Leukemia. She feels personally connected to these deliveries. Taylor looks forward to partnering in other ways in the future and can't wait to be more involved with the LLS. Eric has a sister who was diagnosed with fatal brain cancer but responded very well to her treatment and is now a 10 year survivor. She is currently being studied because of her quick healing and response. They talked about how important and thankful they are that Subaru of Gwinnett was included for this opportunity. The Grady Georgia Cancer Center for Excellence staff is also incredibly grateful and loved seeing big smiles on everyone's faces.Thank you to Subaru and The Leukemia & Lymphoma Society for the 3rd consecutive year to help patients in need through the Loves to Care program.
---
Subaru Loves Rainbow Village - Melanie C
We are so grateful for your generous $14,000.00 gift to Rainbow Village and your ongoing support. This donation is EXTRA special! It will help us start our Circles Program and we definitely want the folks of Subaru of Gwinnett to be a part of it! Since our founding in 1991, we have served over 500 families - over 1000 individuals - who have found themselves experiencing the crisis of homelessness. By providing a safe, stable community in which to live and services that include an after school program, an Early Childhood Development Center, case management, life skills, financial and workforce development planning, we are able to instill initiative, self-development and accountability both now and for future generations. We could not accomplish our mission without the generous help of supporters like you. Thank you again for your support! May God bless you as you have blessed the families we serve!
---
Subaru Loves to Care with LLS - Chantal R
The Leukemia & Lymphoma Society – Georgia Chapter and the Subaru of Gwinnett team joined hands on Wednesday, June 21 to deliver blankets to Grady Hospital in downtown Atlanta. We delivered 2 Subaru cars full of boxes containing care-kits and blankets directly to the lobby of the Georgia Cancer Center. There was so much love and support for the patients in the lobby, from the Subaru of Gwinnett Team, LLS, and hospital staff Djuana Stroud, Lauren Crapo, Carolyn Hudson, and Sara Blumsack. We are so grateful for the opportunity that Subaru has given us!
---
Rainbow Village Check Donation - Holly M
Thank you for designating Rainbow Village as your home tome charity of Subaru's "Share the Love" event with generous donation of $25,000. So many wonderful things are happening at Rainbow Village. Families, both adults and children, are actively working through family goals while planning and building toward secure futures. The supportive, love community at Rainbow Village gives families a safe haven to heal from trauma of homelessness and domestic violence and the time to develop necessary life skills to break the cycle of poverty. I am pleased to share this heartfelt note of appreciation from one of the families that transitioned to their own home. "Fortunately we found Rainbow Village! I that I needed support in many aspects, but I did not expect so much from this great program has offered to my boys and me. Your continued generosity to such a worthy cause is appreciated in ways that you cannot imagine! Your organization has definitely made an "imprint" into the blueprint of our lives. Thank you most abundantly and may you and yours continue to prosper throughout the years to come!" -Mary
---
Backpacks Carry More than Books! - L W
Louise Radloff Middle School Students and Families have benefited greatly from your generous backpack and school supplies donation. The backpacks are being utilized to transport foodstuffs, toiletry items, and clothing to our families who are in need (by our students), and because these items are being delivered in backpacks...our students do not face any sort of questions or need to feel embarrassed. The school supplies continue to be handed out to our students whose families do not have extra funding for these items, and because we were able to empty the backpacks, for a different use, the supplies have gone further than initially anticipated. We cannot thank you enough for being a community partner with Louise Radloff Middle School's families. Thank you, Subaru of Gwinnett, for your generosity. Way to go, Subaru of Gwinnett!!!!
---
Subaru joins MTG Raise awareness on Elder abuse - Fay J
Did you know that "Over 2 million seniors experience abuse each year". Mending the Gap Inc. hosted their first annual 5K Walk & Fun Run on June 4th, 2016 to educate the community raise awareness on the topic of elder abuse as June is the month of national awareness for elder abuse and neglect. Mending the Gap would like to say, THANK YOU Subaru of Gwinnett for being our Platinum sponsor for our event. We are truly grateful to you and your enthusiastic and friendly staff. Your cooperation and generous support with this event not just assist with educating our community on the epidemic of abuse against our seniors, but also assist MTG to continues its work in providing beneficial services to assist many seniors in need. MTG is a nonprofit organization that addresses the basic need of low income seniors by delivering food, cleaning supplies and toiletries each month, while providing an opportunity for young people and senior citizens to collaborate, interact and engage. Thanks again Subaru, We couldn't have done it without your support. Mending The Gap Inc. www.mending-the-gap.org
---