The 2022 Subaru Love Promise Customer and Community Commitment Award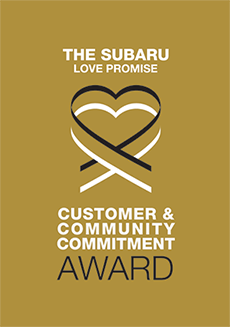 We've been nationally recognized for our dedication to our customers, our community, and the Subaru Love Promise.
We're honored to receive the 2022 Subaru Love Promise Customer and Community Commitment Award. This award nationally recognizes elite Subaru retailers who provide an exceptional customer experience at every interaction with Subaru. These retailers have also demonstrated an outstanding commitment to supporting passions and causes in their local communities in important areas such as the environment, community, health, education, and pets.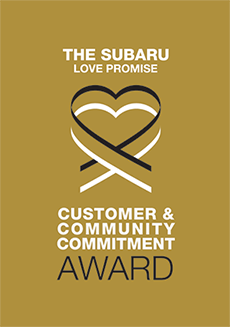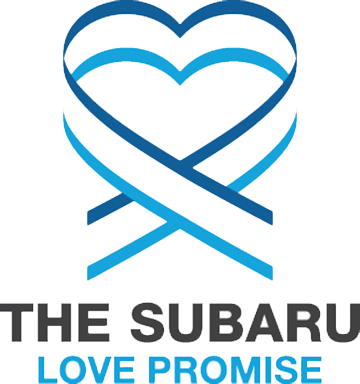 What is the Subaru Love Promise?
Subaru and our retailers believe in making the world a better place and the Subaru Love Promise is our vision of respecting all people. This is our commitment to show love and respect to our customers and to work to make a positive impact in the world.
How is Subaru of Gwinnett dedicated locally to the Love Promise?
At Subaru of Gwinnett, our Love Promise to Duluth and the Atlanta area can be in seen our partnerships with local nonprofits and charities. We're grateful for the opportunity, not only to be a part of this community, but to serve it as well.
Love Promise Stories from Subaru of Gwinnett
Subaru and Subaru of Gwinnett believe in making a positive impact on the communities in which we live and work. We uphold that belief through our Love Promise Community Commitment. Every month, we select inspiring stories from customers and partners from around our area who strive to support our collective commitment and feature them here
Transporting shelter pets - the true underdogs! - Tanya W
Our local Subaru store has gone above and beyond to help our rescue and missions. Let me start by explaining our Go Fix Georgia program! There are many underfunded and underserved animal control shelters just outside of the metro Atlanta area with little or no medical options. Often the pets with immediate medical needs are euthanized, and healthy adoptable ones are sent out with new owners unaltered, leading back into the overpopulation problem. Our program provides transport each week for up to four of these rural shelters to offer spay/neuter services and immediate medical care for the animals in their care. We bring them back to to our clinic in Duluth, GA and then return them to their respective shelters, up to an hour and half away! That said, our vehicles take a beating. One donated van we had was graciously given to us by a local dealer, with the knowledge the side door didn't work. However, knowing we needed the extra vehicle and transport capacity, we jumped on this offer! That meant loading animals, including large dogs and cats in carriers through the trunk door. Let's just say it was a labor of love. We reached out to Julie at Subaru of Gwinnett, and she had us bring the van in. Other shops had quoted us several thousand dollars to either fix or replace the door. We kind of resigned ourselves into always needing to just "deal with it" as those funds would be better used towards saving animals. But they surprised us by offering to fix it for a dramatically lower cost, with them even taking a partial loss! The van side door was professionally fixed and now works beautifully! We are able to get animals safely and easily in and out of the vehicle both before and after surgery, and transport them back to their county with a chance at their happily ever after! The cost savings was incredible, and every penny saved is put towards yet another underdog sitting somewhere in rural GA with little hope for care.
---
SoG Building Bridges with Frankie & Andys Place - Stephen W
Frankie & Andy's Place is a senior dog sanctuary located in Winder, GA. It's much more and provides support in so many ways other than just providing a loving safe soft place to land to the so many passed over and neglected members of the dog community. This past Friday was FAAP's 6th annual golf tournament which is FAAP's cornerstone fund raiser. We were delighted to have SoG join us as a sponsor. Their sponsorship exceeded our hopes and expectations, especially for a 1st time sponsor with us. They also had a team play in the tournament, provided swag for our volunteers and golfer gift bags. They even helped bring the excitement of the new and beautiful Subarus by providing some display cars which brought a level of access and excitement to an event that is hard to put into words. This years' event had some firsts which was even more impressive than just the wonderful work already being done by FAAP. This year the event hosted two very different schools, Path United and Mill Springs Academy. Different from the perspective the learning abilities of both schools are of a very special nature. SoG by being a sponsor had a front row seat to all that attended; golfers, volunteers, guests, parents, students and showed so many people that SoG is truly a valued and hugely committed to the community they serve. These schools came together to work as a team in doing something for a non-profit, Frankie and Andy's Place. With great appreciation and hopes this is the first of many wonderful causes we find ourselves working together with Subaru of Gwinnett. Stephen Walters Event Coordinator Frankie and Andy's Place www.frankieandandysplace.org
---
Rainbow Village Birthday Party Project - Brittany L
Subaru of Gwinnett sponsored and provided volunteers to host a birthday bash for the Rainbow Village Academy children. They celebrated the children that had a birthday during the months of January-March and it was a hit! The children, staff and volunteers, enjoyed pizza, drinks, and cupcakes!! They also played Games and the children of RV Academy were all smiles and laughs during this fun event. Thank you Subaru for supporting the families & children of Rainbow Village.
---
Subaru helps Planned PEThood of GA! - Tanya W
Subaru of Gwinnett has stepped up and taken Planned PEThood of GA under their wing and been incredibly kind to us! We are a local animal rescue that saves over 1,000 animals from local shelters each year, in addition to low cost spay/neuter surgeries and vaccine clinics for the community. As a non-profit, we are always looking for new ways to raise funds to continue helping animals. Back in the fall of 2021, Subaru of Gwinnett helped sponsor a couple of lucky animals in our rescue to help find their furrever homes. Additionally, staff came out to help with an adoption event in the cold! However, our partnership continues to grow and just last week we had a BINGO night at a local brewery. Upon hearing of the event, Subaru kindly gave us several gift bag donations to use as prizes to help encourage the purchase of additional bingo cards. These bags were logo'ed and came with trunk organizers, hats, beer cozies, and notepads. They were a hit! And to top it off, a few members of their staff came out on the evening of and supported the cause. We were able to raise over $2,000 in one night, partially with their help! We appreciate their support. While it might seem small on their radar, this helps adds up in a big way for us. We look forward to working with them again in the future! Helping the furry underdogs, one puppy and kitten at a time! :)
---
North Forsyth High School Specialized PROM 2022 - Julie A
Facebook Post by Sarah Willhite: 3/9/2022 This last weekend was so much fun. So much fun that I'm just now posting about it. 😂Guess where Ethan went last Friday night? North Forsyth High School had their first "specialized prom" for Ethan and his friends. It was amazing. It was a last minute thing so the teachers had about two weeks to plan it and put it together. Not only were they short on time, but they had a non existent budget. Here's what you need to know about North's teachers (and most teachers out there in the world). They would have gone flat broke to pay for these kids to have a good time if the money wasn't provided for them. Lance Willhite Subaru asked his fellow managers to donate. I'm proud to say that they donated $1000! They helped make it possible for the kids to have unlimited limo rides all night, which they were SUPER EXCITED about!! So if you're like me and want to support businesses that give back to the community with no strings attached go see the people at SUBARU OF GWINNETT! I can say I know these people and they are GENUINE, GOOD, CARING people. Lance had an office FULL of people the next day wanting to hear all about it and requesting to see pics and videos of Ethan on his special night. Thank you for your support and thank you for all the text you sent cheering Ethan on! ❤️❤️❤️ Now onto Ethan's teacher….she (and fellow teachers) did an AMAZING job planning and putting the prom together. The love that she has for our kids is evident the moment you meet her. We took a big leap of faith moving to this new school system. We prayed and prayed for our children's future teachers. God showed up in a big way. Kelsey Ballou, we are so honored to have you as a member of our family now. We love you so much and we can't thank you enough for everything that you do!!!❤️❤️❤️ One more thing, the peer buddies at Ethan's school are also near to my heart. They showed up on prom night to help set up, they made signs for the kids and gathered on either side of the red carpet to cheer for them as they walked in, and they were there all night having a blast with the kids. They were there bc they WANTED to be there. Ethan's date to the prom is a girl named Maggie whom we love so much. She's been with him since we got to the school. They're best buds. I've never seen him dance like he did with her (see video). She brings out something special in him. 🥰🥰❤️❤️
---
My Subaru Story - Vanessa R
My Subaru Story: My name is Vanessa Riddlespriger and I work at Mulberry Elementary I have been working in Special Education for almost 20 years. This year I was placed in a 2nd grade class of (SLD) Specific Learning Disabilities. My students do not have any classroom games, puzzles, manipulatives and most importantly, basic classroom supplies. This year, thanks to Subaru of Gwinnett my classroom was blessed with some of these needed materials and Christmas items as well. I think my students work extra hard because of having the needed materials to help them succeed. I will always be grateful to Subaru for making this the best school year that my students will have. When you work in Special Education sometimes its very hard to get the parents to provide basic school supplies for their children. So, what your company did was ease some of the burden by providing all the wonderful gifts for my classroom. There are no words that can express my gratitude each day. I look at my students and see how happy they are. Once again thank you for making me and my students enjoy the remainder of our school year. Mrs. Vanessa Riddlespriger
---
Listening to our Customers - Julie A
Subaru of Gwinnett recently receive a survey from one of our service customers on 1-27-2022. The survey was CONFIDENTIAL, but she made a great point and left her name in the comments. She will soon be receiving a Thank you card. "You now have a seating area in the front where cars used to be. I had work to do, and I could not set up my 13" laptop anywhere. Very uncomfortable to work with laptop and mouse on my lap! You really need to fix this. I'd like to see some mobile carts/computer tables made available. Just roll one out if customer asks! I found this on Amazon. Nice bottom frame - not a trip hazard! Here's the example:https://www.amazon.com/Fancasa-Portable-Adjustable-Notebook-Computer/dp/B07T15SSGH/r Thanks - from P. Bloom (2020 Forester Touring Ed.) With the Renovation underway, things at Subaru of Gwinnett are a little crowded. Our customer provided us great advice and WE LISTENED! 3- computer carts were order the next day and are available to our customers when needed!
---
Blanket Donation for Atlanta Mission - Katrina D
Atlanta Mission is so grateful for the generous donation of blankets from Subaru of Gwinnett! They came at the start of December, just in time for winter temperatures to drop. Our clients were grateful for extra blankets as they will go a long way!
---
Subaru Donation Drive - Lauren F
What a surprise! We had no idea that Subaru of Gwinnett and their partner store were hosting a donation drive for our animals. Then, like Santa, they showed up with big sacks filled with goodies. They had toys, cleaning supplies, shampoo, and everything in between to help the animals and pet parents we serve. Thank you from the bottom our hearts and paws!
---
An addition to the family - Jennifer B
Subaru sponsored the adoption fee for my baby kitten we named Mia. Shes so sweet and caring and created a great bond sith our kitten at home
---